G S M
A PROJECT REPORT
ON
GSM ARCHITECTURE
Academic Session: 2003-2004
Undertaken At
HUTCHISON ESSAR
AIRCEL DIGILINK INDIA LTD.,JAIPUR.
Submitted By:
SAKSHI JAIN
B.E. – IV Year
E-10
Roll No.-73
Faculty of Engineering & Technology
ABOUT HUTCH
Hutchison Telecom, one of the world

's leading cellular service provider, brings Hutch to you.

It is part of the Hong Kong based multinational conglomerate Hutchison Whampoa Limited(HWL).

It is also the country's largest roaming operator.

Hutchison now has a combined subscriber base of over 5 million cellular subscribers.

It was recently polled as

"India's Most Respected Telecom Company" by a Business World-IMRB Survey.

Value Added Services
Various Services Provided By Hutch Are:-

CALL MANAGEMENT SERVICES

FUN WITH SMS

VOICE RESPONSE SERVICES

ITEMISED BILLING

HUTCHWORLD

HUTCHMAIL

MULTIMEDIA MESSAGING SERVICES (MMS)

CALL WAITING

CALL DIVERT

ROAMING
VARIOUS TECHNOLOGIES
The Wireless Evolution is achieved through the GSM family of wireless technology platforms - today's GSM, GPRS, EDGE & 3GSM.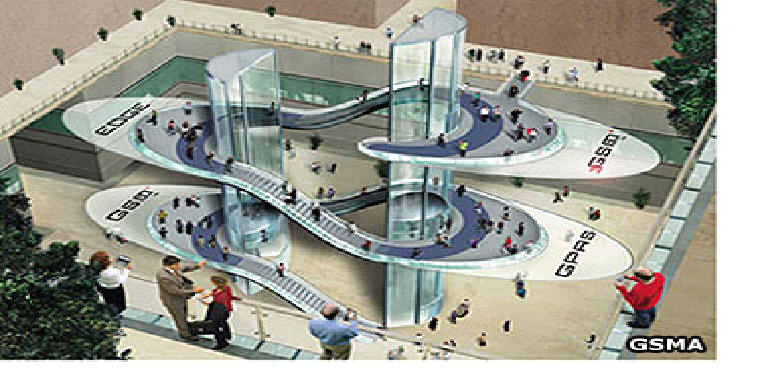 GSM: Global System for Mobile Communications

GPRS: General Packet Radio
Services

EDGE: Enhanced Data Rates for Global Evolution

3GSM: Third generation GSM





Features Of GSM
Compatibility

Noise Robust

Flexibility

Increased Capacity

Improved Security

ISDN Compatibility

Confidentiality

Subscriber Identification

Use of Standardized Open Interface

Enhanced Range of Services

Cleaner Handovers

International Roaming Capability
GSM IDENTITIES
Mobile Station ISDN Number (MSISDN)
NDC

:

National Destination Code
It should not exceed 15 digits.
International Mobile Subscriber Identity (IMSI)
MCC : Mobile Country Code
MNC : Mobile Network Code
MSIN : Mobile Subscriber Identification Number
It should not exceed 15 digits.
GSM ARCHITECTURE
INTRODUCTION: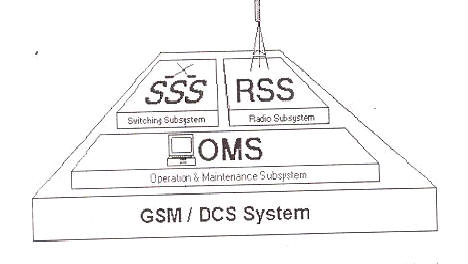 A GSM system is basically designed as a combination of three major subsystems:
the network (switching) subsystem (SSS),
the radio subsystem (RSS), and
the operation and maintenance subsystem (OMS).
Network Components of the Radio Subsystem (RSS)
The Radio Subsystem (RSS) consists of:

Mobile Equipment (ME)

Base Station (BS)

Radio Interface (Um)

The BS has a modular design and includes the:

Base Transceiver Station (BTS)

Base Station Controller (BSC)

Transcoding and Rate Adaptation Unit (TRAU)

Radio Subsystem (RSS)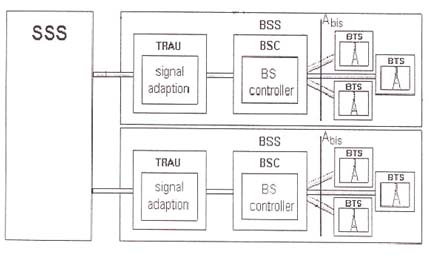 Network Components of the Switching Subsystem (SSS)
The Switching Subsystem (SSS) comprises of:
Mobile services Switching Center (MSC)
Home Location Register (HLR)
Visitor Location Register (VLR)
Authentication Center (AUC)
Equipment Identification Register (EIR)


OPERATION AND MAINTENANCE SUBSYSTEM (OMS)
An OMS consists of one or more Operation & Maintenance Centre (OMC).

The operations and maintenance center (OMC) is connected to all equipment in the switching system and to the BSC.
GSM Network Areas
The GSM network is made up of the following geographic area:
GSM service area;
PLMN service area;
MSC service area;
Location area;
Cells.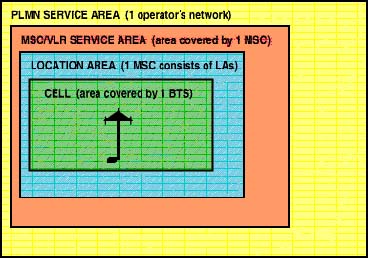 BIBLIOGRAPHY

Websites:
1.
www.hutchison-whampoa.com
2.
www.hutch.co.in
3.
www.gsmworld.com
4.
www.iec.org
5.
www.pt.com
6.
www.intel.com
7.
www.dia.unisa.it
8.
www.searchmobilecomputing.techtarget.com